HOW TO BEGIN YOUR YEAR WITH THE RIGHT FITNESS ROUTINE
Posted on

Jan 5, 2018 12:50:53 PM
Share:
Trying to figure out how to kick-start your 2018, with a bang. If you are struggling with impossible resolutions, we at amante feel there is no better way to start your year than to build new and improved you. Follow these mantras and put your 2018 into the right gear!

Mantra 1: Drink more water!
SOURCE: THE GLOW
Water, Ladies, is literally a magic potion. You don't need to look any further, water is the answer to all your problems. From processing the nutrients to removing all the toxins from your body, a glass of water works miracles. Drinking water is also an efficient way to stay happy, as even mild dehydration can result in negative moods. So lift those spirits and go glug glugglug! P.S: Want to make your glass of water more appetizing? Add a slice of cucumber and dose up on that refreshing feeling.

Mantra 2: Eat right.
SOURCE: WOMEN.COM
As you look back on the holiday season that just went by and reflect on that slightly jutting out tummy of yours, you sadly start to dwell on the memories of how you stuffed your face with your mom's delicious cooking and did not say no to the 18th time your aunt offered you that Ladoo! There, there! We all have a paunch, oops, we meant a past. What's important, is to make the most of now, and get your body into a cleansing mode. Best way to ensure that you eat right is to plan your meals. Not only, will this help you keep track of what you eat, but it will help you save time next time you are posed with that ever-annoying question, "What should I have for dinner?" And while internet today has you covered, with brilliant recipes, the basic rule is to ensure that you have a balanced meal and reduce your carb intake as your day progresses.

Mantra 3: Meditate.
SOURCE: BOREDPANDA
A new year can be daunting and so can the pressure to be a better you. But with lives as crazy as ours, we are pressed for time to even worry! Well, we have the fix for you. Ever heard of something called 'ME-Time'. That is just what you need. It is time to unplug and reconnect with yourself with the age-old art of meditation! A practice as old as the earth, meditation is so much more than a form of relaxation. It is a proven fact that if you meditate regularly you can reduce symptoms of stress and anxiety. All you have to do is to get into your comfortable yoga attire and simply INHALE & EXHALE!

Mantra 4: Work out.
SOURCE: ALLW
There is no fitness, without a good dedicated workout routine. Don't shy away from it, embrace an active lifestyle, and start working out. It is a myth that only people who wish to lose weight must work out. Staying active, helps you live a longer, healthier life. Every time we work out, our body generates endorphins, and endorphins give your brain the feeling of happiness. So while the crunches and heavy lifting may have you worried about the pain, the endorphins will ensure that you are pumped up for the rest of your day. For best results, make sure to work out in the early hours of the morning and enjoy a perky and energetic start to your day. If that wasn't reason enough, working out means you now finally have the excuse to build your dream activewear wardrobe. Pick up a pair of stylish work out capris or shorts and style it with a breathable tank top. Golden rule: You shall invest in a good quality Sportsbra. The right Sportsbra will make that work out even more worthwhile. Don't believe us? Read more here.

Mantra 5: Beauty Sleep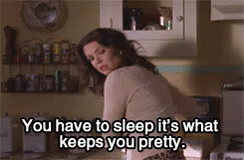 SOURCE: TENOR
Good news for all those who love an excuse to snooze, you now have more reasons to get a shut eye. Though we all wish to be superwomen, our body, sadly and truthfully, like any other machine, needs a downtime. Make sure to catch a good 8-hour sleep every day. Good sleep is credited with improved productivity and works wonders for your skin. While sleep can't transform all of us into beauties, it does help slow down the aging process of our skin. While you sleep your body generates collagen, which is much-needed protein, that helps you skin stay strong. A word to the wise: To help you get into the sleep mode, remember to remove your makeup and change into comfortable nightwear. Read more on how to convert your room into a sleep shrine here!
Share: